Top 5 Ways To Retain Your Customers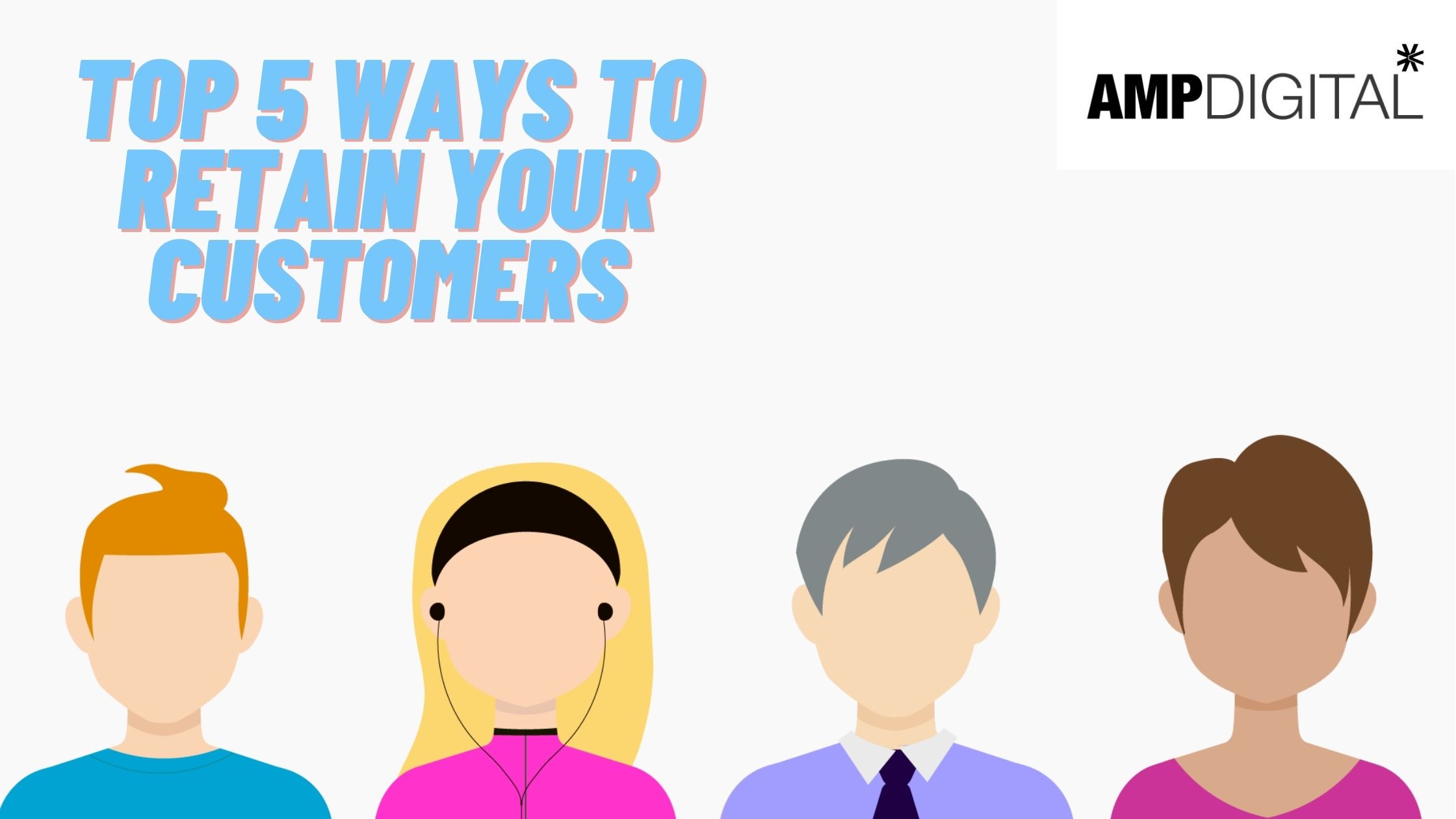 You may have a brilliant product or service, but if you do not build customer relations you will lose a big piece of the pie. It costs five times to acquire a new customer than it does to keep your existing customer base. Failure to improve customer retention plans will mean that your business is on a treadmill, trying to constantly win new customers.

Do you know the 80-20 rule? It says 20% of your customers help you earn 80% of your revenue. This is what makes customer loyalty & retention important for any business. A business cannot succeed in the long run if its customers are not happy & customer retention is very low.

This article will guide you through the meaning & importance of customer retention & top 5 ways you can retain your customers.


What Is Customer Retention?

Customer retention is a company's ability to retain its customers over time — it's a percentage that measures how many customers are retained by the end of a given time period. The higher the customer retention the more profitable it is for a business. A higher customer retention rate means the customer is satisfied with the product and is repurchasing it. It helps in building brand loyalty.


What Is The Importance Of Customer Retention?

Customer retention is a yardstick that measures how much satisfied your customers are rather than how good are your marketing efforts to acquire new customers. Here are major reasons why customer retention is important for any business to survive in this competitive market:

Cost Effective: Acquiring new customers is five times more costly than retaining the old customers. Acquiring new customers will require a high marketing budget and much effort than just serving the old customers well and giving them an experience that they come back to you next time.

ROI: According to a study a 5% increase in customer retention can increase company revenue by 25-95%. The most important reason for a business to continue is to get a return on investment that is surely guaranteed by customer retention.

Brand Loyalty: A customer who is satisfied will visit again. They may be encouraged to try some other product of your company. This will help you in building brand loyalty.

Referrals: A loyal customer will refer your product to friends and family. He will spread good words about your company and product bringing new customers without extra cost.


Now, the question arises how can we retain customers? So, here are Top Five Ways You Can Retain Your Customers:


Personalize Your Customer Experience

You must try to personalise the customer experience and make them feel valued. Collect their name, birthday, along with other details that would allow you to improve their experience. Send them a personalised greeting on their birthdays and anniversaries rather than simply a system generated message. You can track what a regular customer often shops from your store and send them emails regarding any discount or new arrival of that product. These little things will matter a lot to your customers!


Customised Pricing Policy

You can adjust your pricing policies in a way that makes it easy for current customers to return and conduct more business with you. Maybe you offer customers discounts via email for their next purchases or for their most-recent orders. You may offer free shipping or returns for regular customers in the case of e-commerce. You can also offer a cost-effective subscription for your service.


Customer Loyalty Programs

Loyalty programs are a great way to build relations with your customers. You can give them irregular incentives that can work as an element of surprise for them. You can have a points system, which allows customers to earn points for actions like sharing your content on social media or referring to a person within their network who makes a purchase. You might email your regular customers a special offer each month. You can reward them with free shipping or free gift messages to the top customer.


Connect With Your Customers On Social Media

Your customers spend most of the time on social media. You should try to connect with them on these informal platforms. Regularly posting and building a presence on social media will help customers to recall your brand and connect with you easily. Showcase all your new products on social media. Show customers how they will feel after using your product rather than showing them the product.You can conduct contests, etc for your customers. Encourage your customers to tag your page whenever customers use your product. This will act as a great way of promoting your product.


Regular Customer Feedback

A regular customer feedback will help you understand what your customers expect and how far are you able to fulfill their expectations. You can ask your customers on a Likert scale how much will they rate your product, prices, quality & staff etc. You can ask them what went wrong or what can be made better. This will help you to become better day by day and make customers believe that they are valued. Never ignore negative feedback or criticism. Remember the rule of 1:39. This means that if one person complaints about an issue, almost 39 people are facing the same problem. So keep your customer suggestions and feedback on a priority basis and work on them.


Hope this blog helps you in understanding the importance of retaining your customers. Follow these tips and use them to improve customer retention rates in your business.