What Are Various Jobs & Career Options In Social Media Marketing?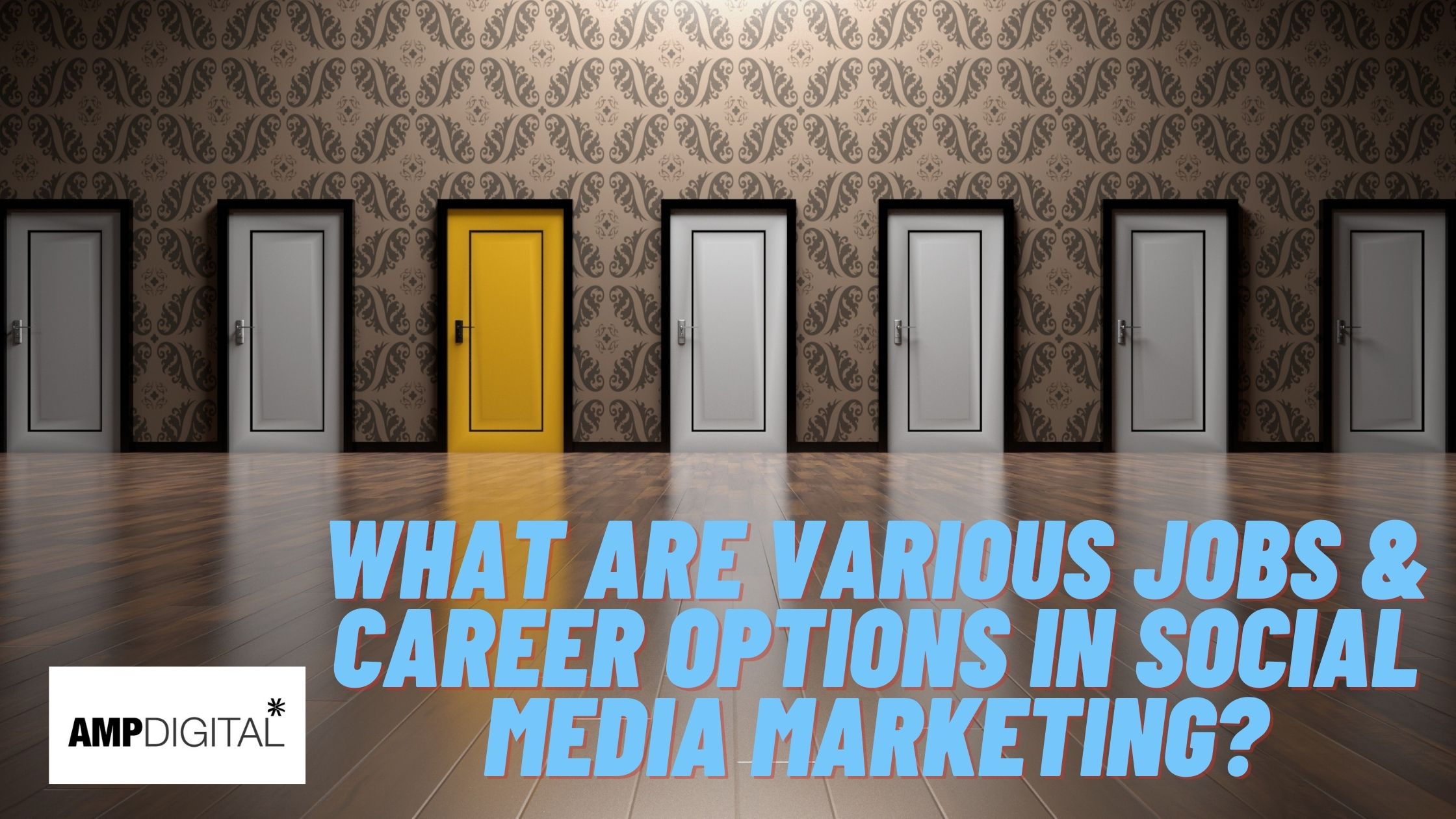 In the last decade, the need for social media managers has boomed.Today almost all businesses are trying to build a presence on social media. Some businesses are solely based on social media platforms. This creates a lot of job opportunities in this field from creating content, promoting & tracking the performance. Here are Top 5 Social Media Roles that are offered to Social Media Marketers

Social media manager

The social media manager monitors the whole process and sets the strategy that others will contribute to. For small businesses the owner himself manages the social media platform. However, large business organisations may delegate this task to a designated on-staff person or freelancer. This is beneficial as it allows the organisation to engage with the customers regularly.
The social media manager makes important decisions like:
Which platforms to use (Facebook, Instagram, Twitter, Pinterest, etc.)
What kind of content you'll create and promote with a schedule
How frequently you'll post and share on each platform & which is the best time
Analysis of the insights & make strategy changes
Click here to apply for a social media manager job.


Content Creator

Different social media platforms have different content strategies like carousel for Instagram, video for Youtube & blog post for Linkedln. A content creator creates Blogs, Posts,Videos, Memes, infographs . Click here for content writing job. It is one the most time consuming roles in social media marketing. Companies either hire someone for this work or get it outsourced from some external agency.A content creator should be
Creative
Dynamic
Well aware about the target audience

Community Manager

Posting content is not enough. A Community Manager is the one who is responsible for building relations on social media. He will log right into each platform to engage with your audience directly by responding to comments on your posts and engaging with what others share. He is the one who responds to criticisms & negative comments tactfully. He is the face of the company ,the one whom people know.
A community manager should have
Good communication skills
Art of building relations.
Know how of each social media platform
Click here to apply for the job.


Social media advertiser

Advertising becomes very important on social media with the growing competition. Facebook itself records 2 million businesses for advertising.Today almost all social media platforms have paid advertisement that is a major source of their revenue.Your social media advertiser will be responsible for:
Identifying your target audience using Facebook Audience Insights, Twitter Audiences, etc.
Deciding which content to promote with paid advertising
A/B testing different ad components to optimize your strategy
Monitoring advertising progress so far

Influencer Manager

Influencers can be celebrity personalities, other businesses with an audience similar to yours, or simply popular social media users that have a huge fan base and followers. Promoting a product through them increases the reach of the product.It's the job of your influencer manager to find these influencers and encourage them to share your content. They are responsible for finding the right influencers, negotiating with them & mapping success by using the influencers.


With these diverse and highly visible roles, it's hard to believe that the social media community manager position is often still considered entry-level. If a business strategically hires an expert digital marketing team it will help it to capture the growing market.